Serving our customers in Chicago and the Northern Suburbs for over 20 years!
Since 1997, Oasis Heating & Cooling has delivered quality customer service, reliability, and expertise in heating, cooling, and ventilation to our residential and commercial clients. Our highly-trained technicians, and responsive support staff, offer customized solutions to fit your budget. We have earned the respect and support of our valued customers and have become a trusted source for all their HVAC needs.
Our Oasis team is highly trained, trusted and reliable!
We are 100% committed to our customers satisfaction.
We treat our employees and their families with respect, in return they offer loyalty and commitment to us and to our valued customers.
We develop relationships with the top manufacturers and distributors in the country. This give us the opportunity to offer our customers the latest in technology, quality equipment, and competitive pricing.
We communicate with our customers by sharing our knowledge and expertise. This philosophy enables our customers to make informed decisions that work with their lifestyle and budget.
We develop and nurture long term customer relationships.
Oasis Heating & Cooling is a company built on superior training, loyalty, trust and reliability. This guarantees our customers superior workmanship, professionalism and confidence. We are a trusted resource in the industry.
Our Goal is to make you feel comfortable and confident through every stage of your HVAC project. We will make sure that from the moment you call us until we shake hands that we work with your budget and provide you with our expertise and project details so you can make an informed decision.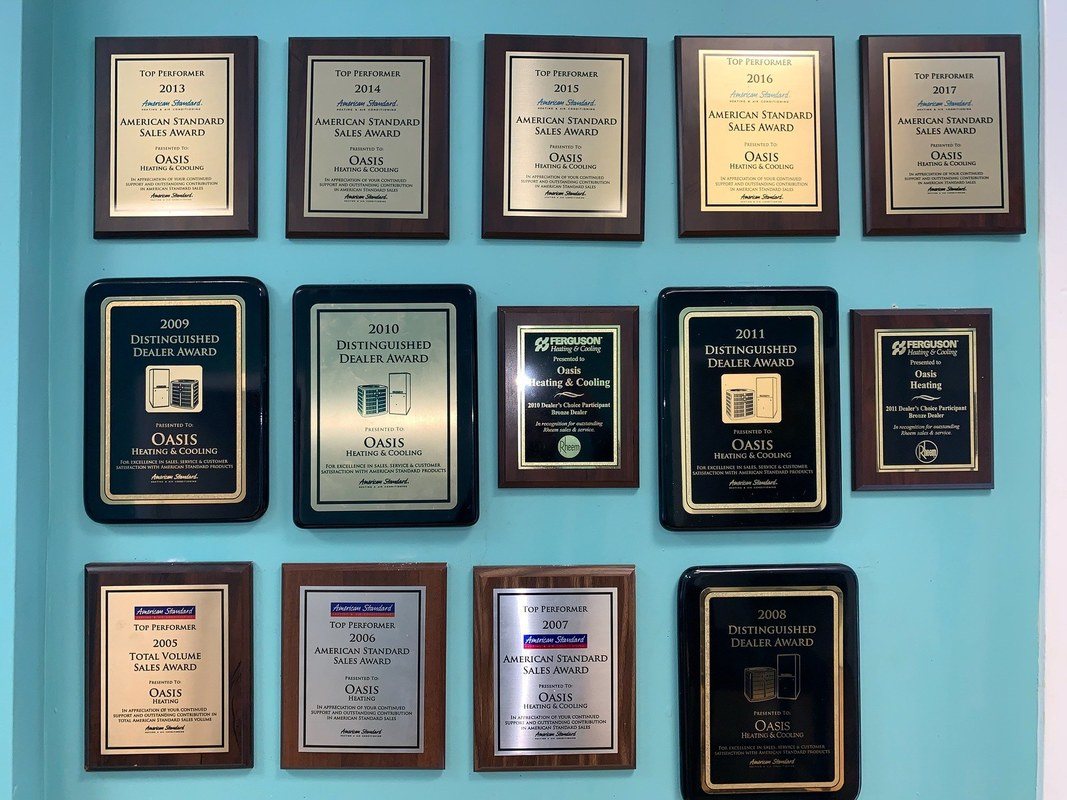 Award Winning Heating & Cooling Service
2013 – American Standard Sales Award
2014 – American Standard Sales Award
2015 – American Standard Sales Award
2016 – American Standard Sales Award
2017 – American Standard Sales Award
2009 – American Standard Distinguished Dealer Award
2010 – American Standard Distinguished Dealer Award
2008 – American Standard Distinguished Dealer Award
2011 – American Standard Distinguished Dealer Award
2010 – Ferguson Heating & Cooling Dealer's Choice Participant Bronze Dealer
2011 Ferguson Heating & Cooling Dealer's Choice Participant Bronze Dealer
2005 Top Performer – Total Volume Sales Award
2006 Top Performer – Total Volume Sales Award
2007 Top Performer – Total Volume Sales Award
June 14, 2018
2023/12/06